A somewhat older peasant girl bought too much makeup and these were the best of them!
Ok Dorthy, we are going to fly through these, so hold onto your farm house and watch out for broom riding witches.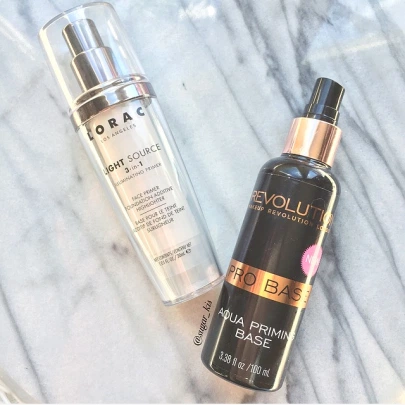 I really love the Lorac Dawn Primer and have been mixing it with all my foundations to add some glow to my face!! I have a full review on my Lorac Post if you need extra details! Makeup Revolution Aqua Base has been great for my dry skin especially when having my heater on full blast. I use this in conjunction with other primers for the added hydration and it really does help my makeup look better.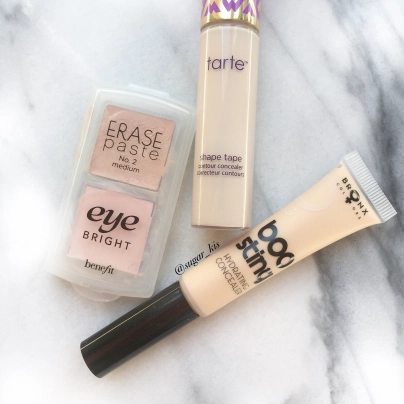 Tarte Shape Tape has been great for concealing and offers amazing coverage even though it is nearly white! I have also been loving the Bronx Boo Sting concealer, it has been great for my dry under eyes and the slight peachy color helps with the dark circles. Now for those serious dark circle days, I have fallen back in love with Benefit's  Erase Paste No.2 and the Eye Bright. I bought these last year and used them nearly everyday, but with trying new products for the blog and Instagram, I sadly forgot about this dynamic duo.
Makeup Revolution Radiance and Essence Highlighters are so good! I have a full review on my Highlighters Post, so will just say that these offer a great natural glow and have been my go to for the quick makeup looks in between product testing days!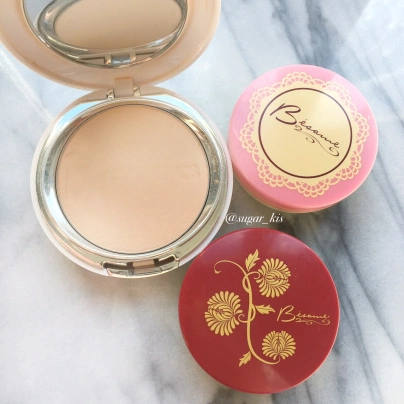 I have been mixing the Besame setting powders this month and love the brightness they add to my face but without any type of shimmer. I do have a review on my Besame Post if you would like to know more about the products and brand! It Celebration Foundation adds a lovely luminosity to my skin, but if you go in for all over coverage it can look really shiny and cakey. I have been using this as a finishing powder to areas that tend to look a bit dull.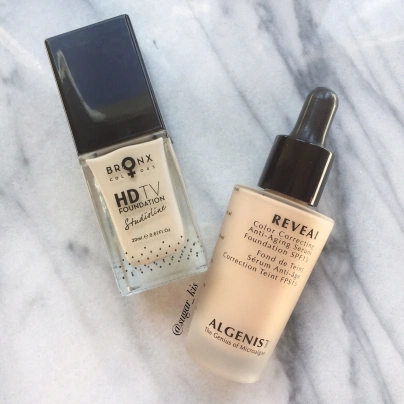 So for foundations I really have been enjoying both Algenist, full review here, and the Bronx HD TV. Both are light weight, but offer a nice light to medium coverage, blend well, and look so natural. I like to mix the Bronx with darker foundations and find that it doesn't interfere with their performance in any way. Plus, this is one of the few brands that actually has a pale, cool toned foundation and is in a pump!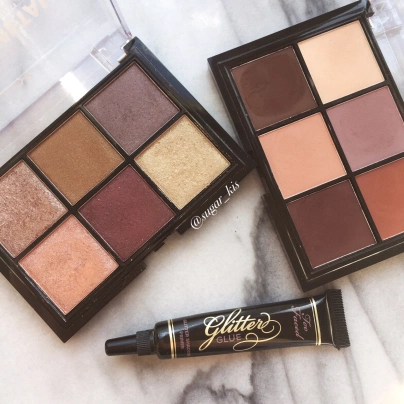 I have a full post about these NYX Palettes, so just going to remind you that I love them and the Too Faced glitter glue is a must for shimmer shadow lovers!!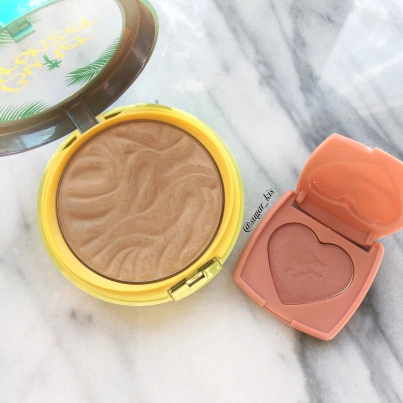 I can't stop wearing the Physicians Formula Bronzer since buying it in January. It smells like a sweet coconut drink, looks so flawless, isn't super warm so it doesn't make you look dirty, blends like butter, and is worth the hype. The Too Faced 16-Hour Blushes are some of my faves and the color Baby Love is perfection. It's a nude shade but I would describe it as a warm, apricot with a hint of pink and golden shimmer. Maybe I am crazy, but that is how it pulls on my skin tone!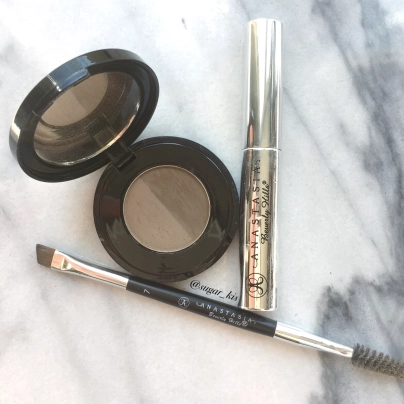 Last but not least we have the Anastasia Brows!! The gel holds my brows in place like no other, but does leave them feeling slightly crunchy. The powder is mind-blowing and I have been using powders in my brows for 13 years. It doesn't have a ton of fall out like other powders tend to and looks so natural!
I hope you enjoyed my ramblings and maybe got some good information even though I went as quick as possible!! If you would liked a more detailed post for March Faves, please let me!!!