It was a love of glamorous Pinup Girls that made me begin to take a more artistic approach with makeup over a decade ago, so when I stumbled across Besame last year it was like I had died and gone to heaven!!
Besame was founded in 2004 by Gabriela Hernandez who was inspired by vintage makeup and the cinematic beauties of the 1920's to 1960's. The company offers a wide variety of classic beauty products including lipsticks, face powers, blushes, tools, mascara, and perfume. You can read more about Gabriela and her creations on Besame's website!!
Now the beautiful bounty!!!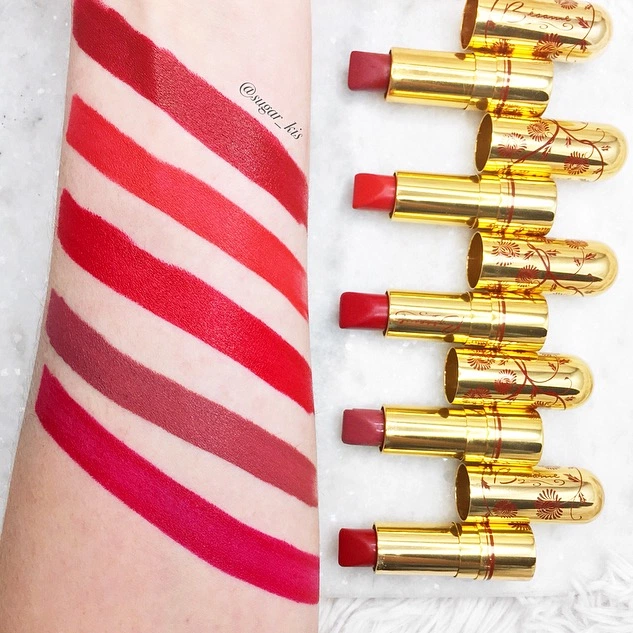 Lipsticks: Red Velvet, Tango Red, Victory Red, Dusty Rose, and American Beauty.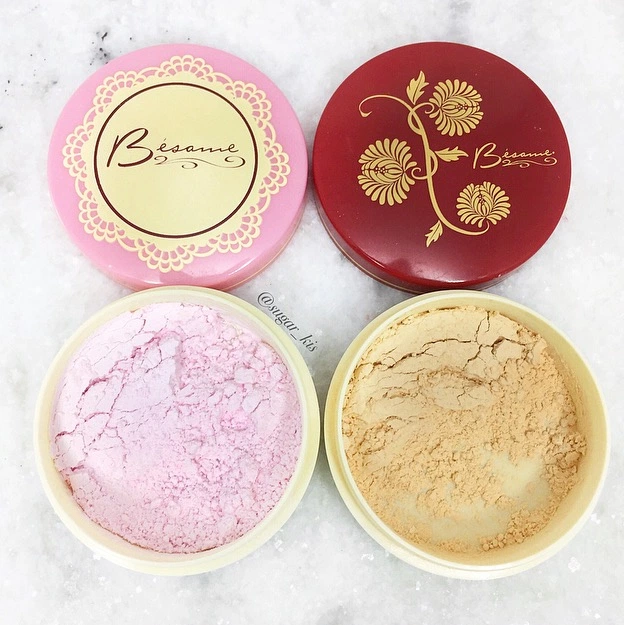 Brightening Powders: Vanilla Rose and Vanilla.
Cake Mascara: Black
Review
Lipsticks ($22): First of all I am not a lipstick snob, but these are the one of the few lipsticks that I truly feel are worth spending the money on. It is so hard to find the right shade of red lipstick and the fact that they have so many varieties for everyone is remarkable! The finish is satin, with the formula being on the thicker side, so you have great coverage but it's still comfortable to wear all day. If you splurge on one shade of red this year, make it be from this company!!
Brightening Powders ($22): I use the Vanilla Powder all the time and it is hands down my favorite setting powder. It smells like vanilla, adds a natural brightness to my face without looking shiny or greasy, and helps even out redness. The Vanilla Rose smells like roses and I bought this for my under eye area since it is made to help with blue/green tones but I didn't really notice a huge difference and felt the pink powder didn't sit well with my already red face. Both powders are finely milled and only look cakey if I go crazy with product. I apply either with a large fluffy brush for all over brightening or a damp beauty sponge around the eyes to really liven things up.
Cake Mascara ($25): At first this cake mascara was a little weird and hard to work with, but after a couple of tries I have fallen in love with it! This isn't one of those 'hurry up and get out the door' beauty products, because you do need to mix the cake with water, but it is great for days you can play around with your makeup. I like that you have control over the consistency of the mascara, for natural lashes you make it thinner and for dramatic lashes simply make it thicker. This can be used as an eyeliner and in your brows, I haven't tried the brows yet but as a liner it didn't work well for me because my eyes water a lot and this isn't water proof. (This is also sold in a tin with a brush as well as in brown but they weren't available when I purchased mine!)
Final Thoughts
I honestly have nothing negative to say about this brand! Their products are so unique, but not gimmicky and made to just look cute without actually being able to perform. The quality is superb, the packaging of everything is beautiful and makes you feel like a movie star getting ready to attend a fancy party, rather than simply running to the grocery store for fruit snacks!
I hope you found this review helpful!! Please feel free to follow my blog for more reviews and my Instagram!! Thank you for stopping by and have a lovely day!