Is there anything that can ruin a perfect face quicker than bad brows?!? As your self appointed Best Brow Friend, the answer is NO!
Now I love a good brow powder, pencil, dip, pen, stain, and any other awesome fad on the market today, but brow gel is my favorite! Some days I just don't have time to spend on my brows, so I whip out my trusty gel and run that wand through to tame, define, and thicken those suckers into shape!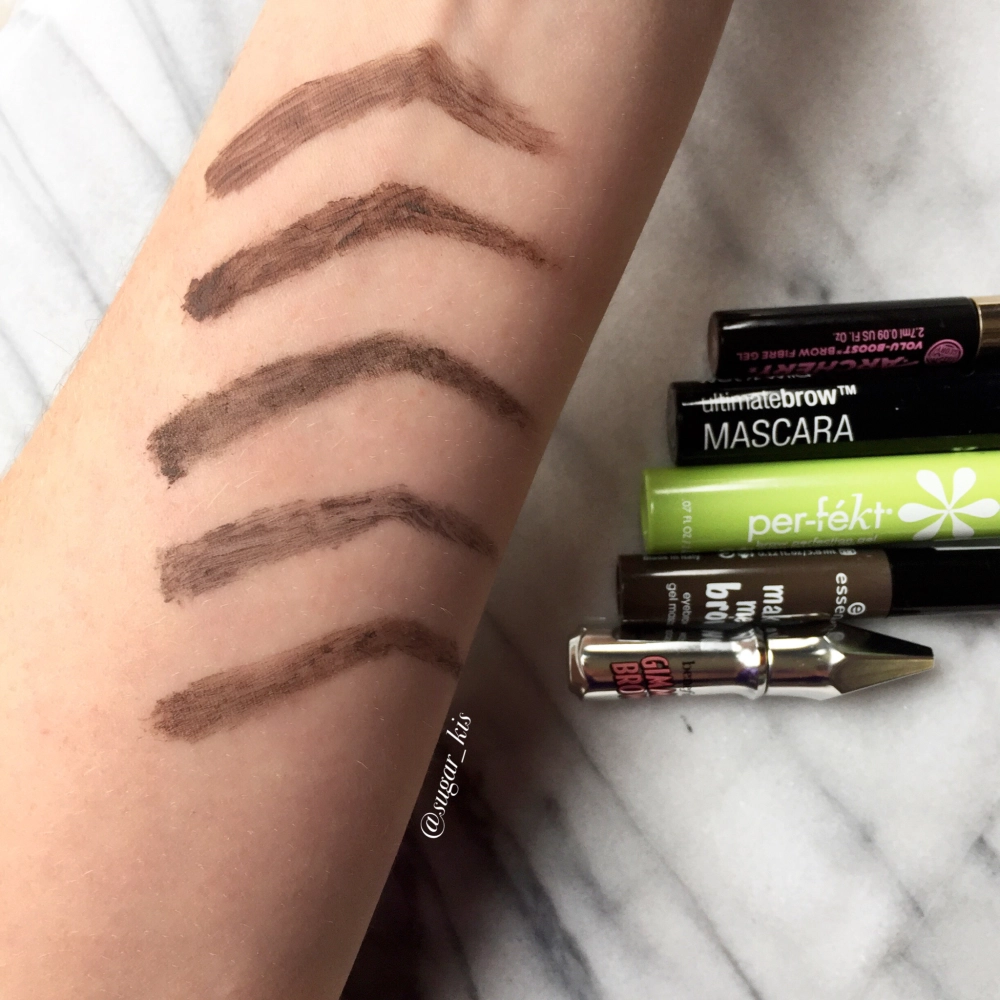 Top to Bottom: Soap & Glory Archery Volume-Boost Brow Fiber, WetnWild Ultimate Brow Mascara, Perfekt Brow Perfection, Essence Make Me Brow, and Benefit Gimmie Brow. 
*Sorry for crazy swatches, but the wands are scratchy and some of the gels are older and being difficult!
Review
My brows are as normal as they come. They have a decent arch, average thickness, a few sparse areas, and do require a good brushing in the morning! I typically use Anastasia Brow Powder and some type of gel daily to keep them looking 'natural'. For these tests I used the gels alone and in conjunction with my brow powder, although these tinted gels do work fine for me on their own, I do understand some people require extra products to achieve the brows they desire.
Soap & Glory ($14) Talk of the Brown: Natural look and feel. Light holding power, brow hairs will move if you touch them, but stay in place otherwise. This does contain fibers, so will add a little extra volume to the brows and sparse spots. I have a habit of touching my brows throughout the day and found the fibers would flake off the more I messed with them. Wand is small and great for smaller, more precise work. Comes in three shades.
WetnWild ($5) Nothing But Bru-Nette: Can achieve thicker, bolder brows if you go heavy-handed but if used lightly brows look natural. The formula isn't crunchy, but you do feel it in the brows and hairs will move when you touch them. Wand is medium-sized, so can cover a larger area but still get into tight spots. Comes in three shades.
Perfekt ($22) Espresso: I have been using this for years. It is the most natural of them and gives the brows color and definition but feels the most normal. Brows aren't really held in place like with other gels, so if you have unruly brows this won't tame them. My personal favorite for no makeup, makeup days! Wand is largest of them all, so not the best if looking for precision work. Comes in four shades.
Essence ($3) Browny Brows: Natural look and feel. Light holding power but prows will move if you touch them. Added thickens and helped with sparse areas. Works well when paired with other brow products or on its own. Wand is small and great for smaller, more precise work. Comes in three shades.
Gimme Brows ($24) 3: Again, natural looking brows and did add volume to sparse areas since it contains fibers. Worked well with other products or alone. Light holding power, so brows will move when messed with but stay in place otherwise. Wand is small and great for smaller, more precise work. Comes in three shades.
Final Thoughts
All products worked well for me and I didn't have negative experiences with any of them. Benefit along with Soap & Glory do have fibers, so they did add a little extra oomph to the brows than the other three. I tried to layer up the other brands to see if I could achieve the same effect, but they just looked darker versus fuller. 
If you are in the market for a clear gel the will hold your pesky brows, then I highly recommend Anastasia Clear Gel!!
Thank you for stopping by!! If you found this helpful, make sure to follow my blog and Instagram!!