I know what you are here for, so let's cut the small chit-chat and get down to sweet peachy business!!
The Sweet Peach Palette contains 18 shadows and retails for $49. It will be for sale Dec.14th on Too Faced's website and Dec. 15th for Ulta.com and Sephora.com, with in-store launches for both stores on Dec. 26th.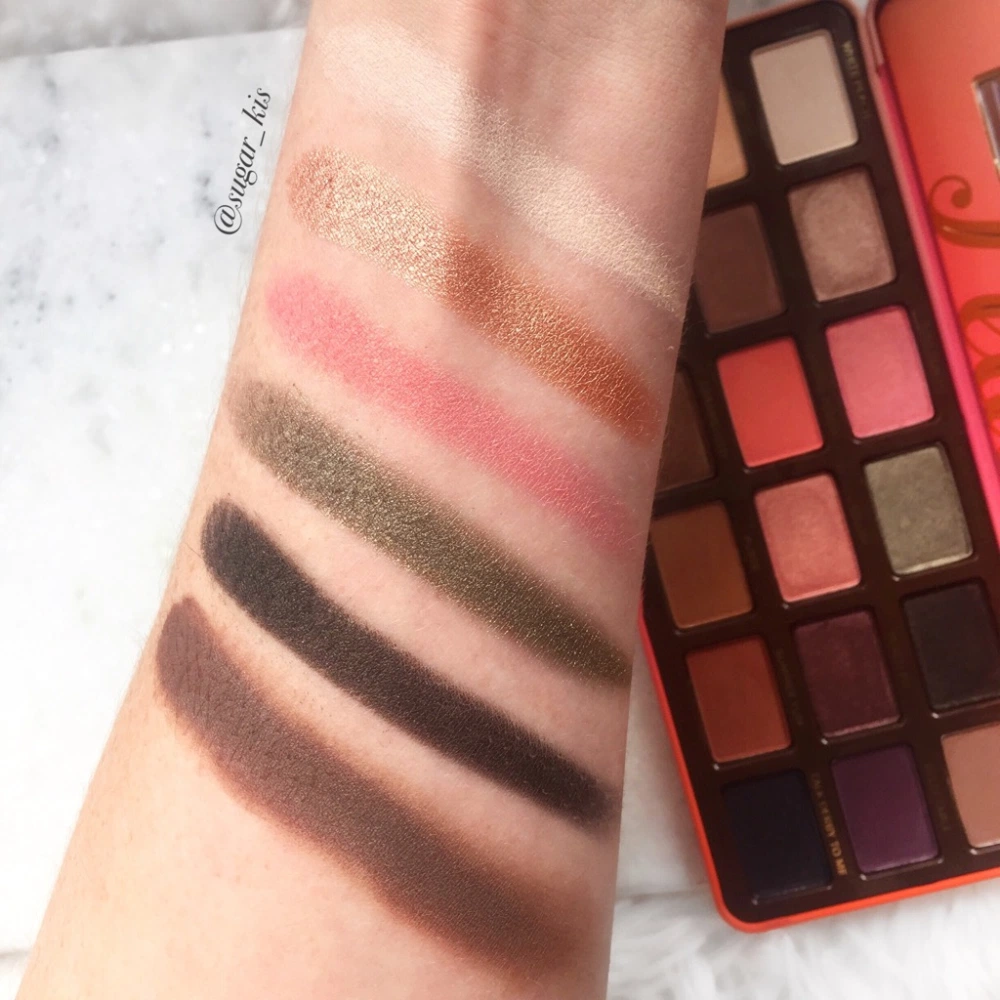 Sweet Peach Palette Top Row: White Peach, Luscious*, Just Peachy*, Bless Her Heart*, Tempting*, and Charmed I'm Sure.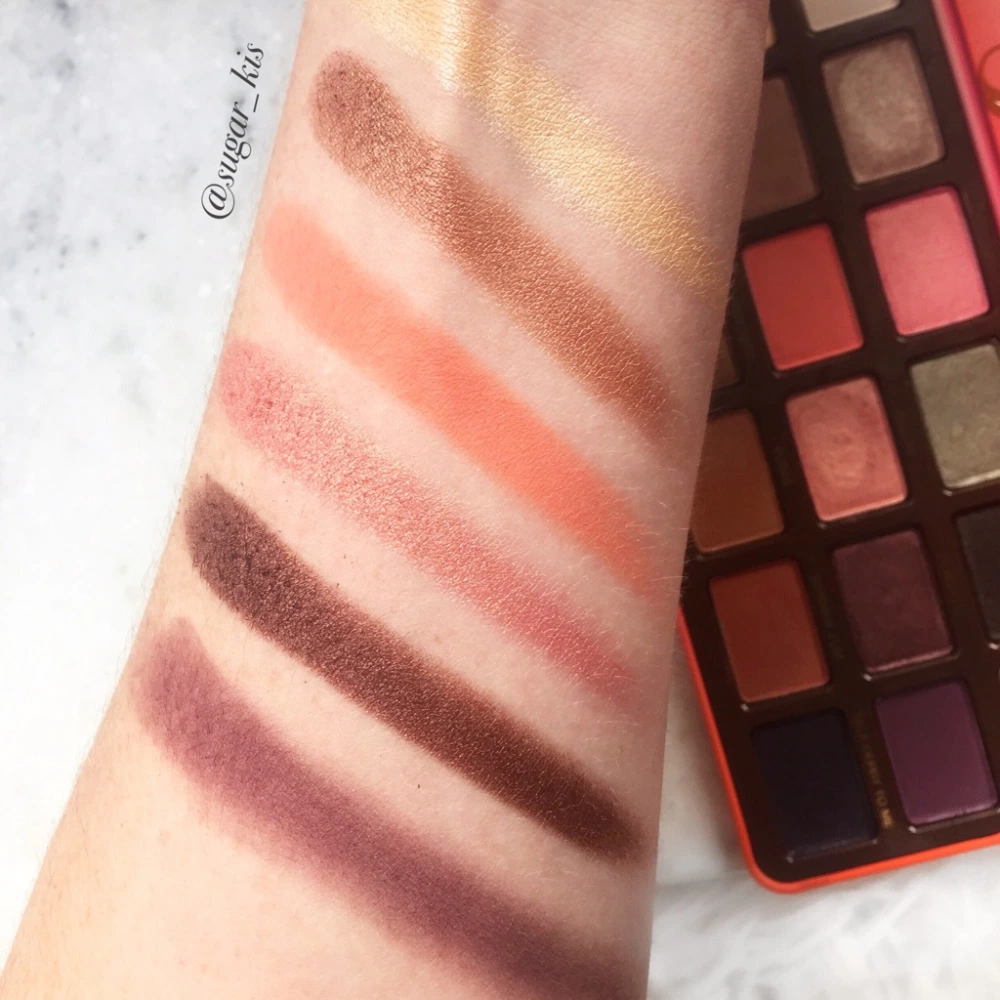 Sweet Peach Middle Row: Nectar*, Cobbler*, Candied Peach*, Bellini*, Peach Pit*, and Delectable*.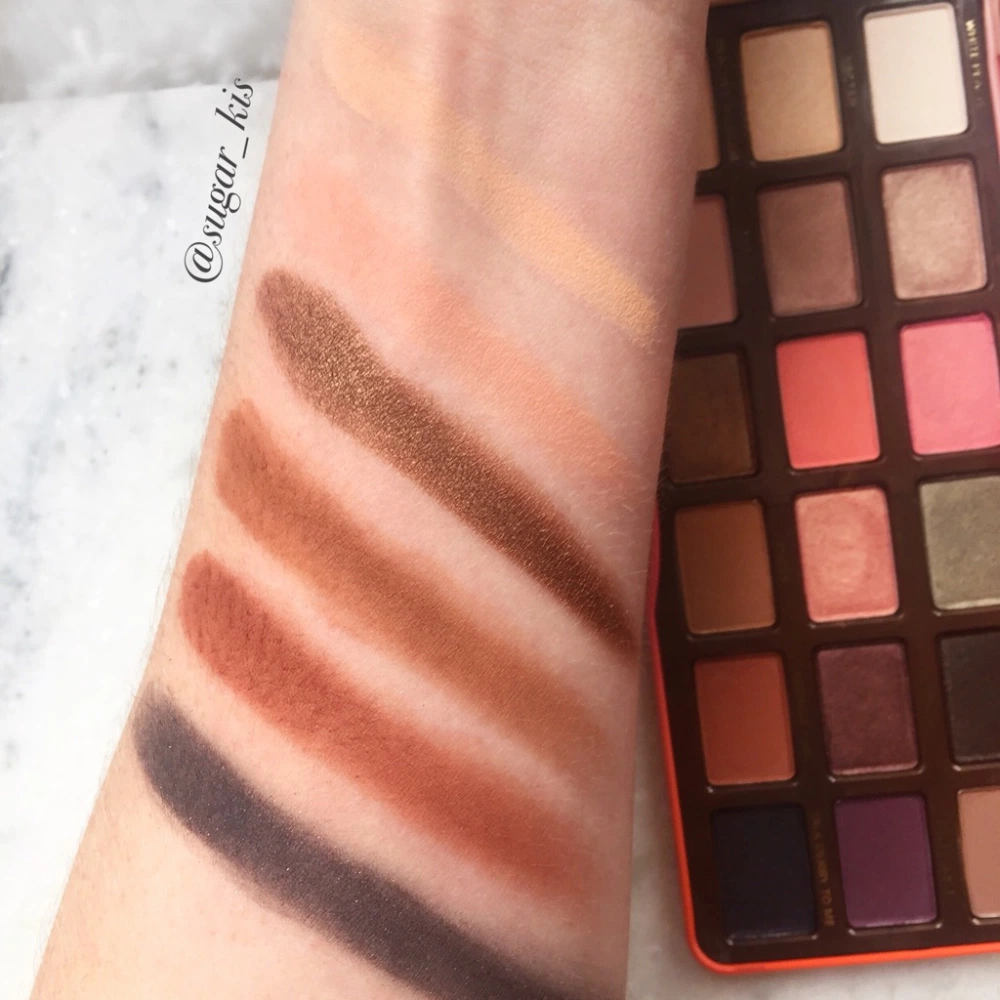 Sweet peach Bottom Row: Peaches N' Cream, Georgia, Caramelized*, Puree Summer Yum, and Talk Derby To Me*.
*Indicates Shadows with glitter/shimmer.
Review
This palette does have a strong sweet, candy peach smell but it does fade rather quickly after application.
I feel like the strongest shadows would have to be the shimmery ones. The mattes and lighter shades have soft pigmentation and require a primer along with some building to really make an impact. They are good for creating that soft peach look, which I feel isn't a bad thing. 
The two darker shades swatch different from how they appear in pan, Tempting is more of a brown-black with golden glitter and the shade Talk Derby To Me looks purple but actually comes off black with purple glitter. Delectable is dry and not the best purple shadow I have used.
The actual peach shades are a bit different as well. Just Peachy is more of a pink with a golden shimmer, Candied Peach is a dry peachy matte with chunks of pink-gold glitter, and Bellini is a darker peach-pink with golden shimmer.
Final Thoughts
I think this is a pretty palette and you can make some lovely looks with it, but if you are sensitive to smell or looking for strong peach colors then this might not be a good choice. There are a lot of neutrals in here along with shimmery shadows, so if you are a matte fan or looking for colors then this palette probably isn't a wise a choice either.
I will use this palette, but probably not buy again.
Is MAKEUP REVOLUTION NEW-TRALS vs NEUTRALS a Dupe?!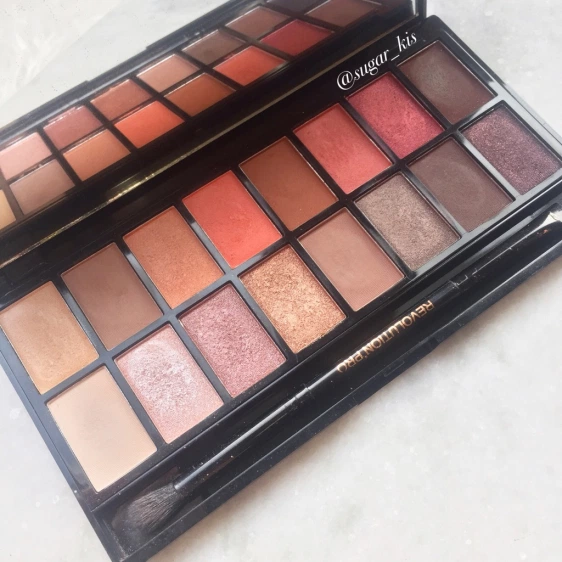 I bought this palette a few months ago from Ulta after the Sweet Peach palette sold out the first time around. It retails for $10, contains 16 shadows (4 mattes), and honestly think they are similar.
The mattes and light shades in both aren't strongly pigmented and require primer along with building them up to add in performance. The shimmery shades in both palettes are equal in quality and execution. I feel like the peach shades in this palette lean more towards the orange-peach side versus pink-peach in Sweet Peach. The bottom right purple shade is creamier and actually looks more purple than black versus Talk Derby To Me.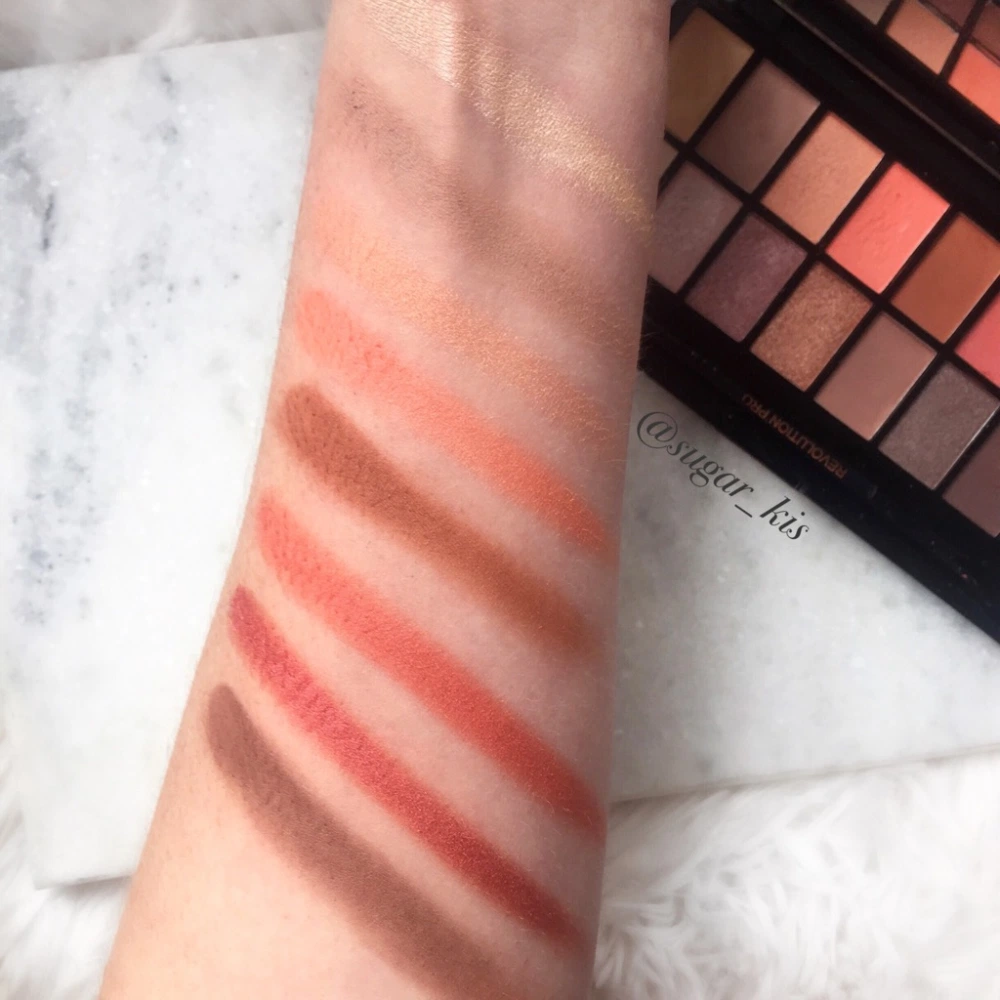 NEW-TRALS vs NEUTRALS Top Row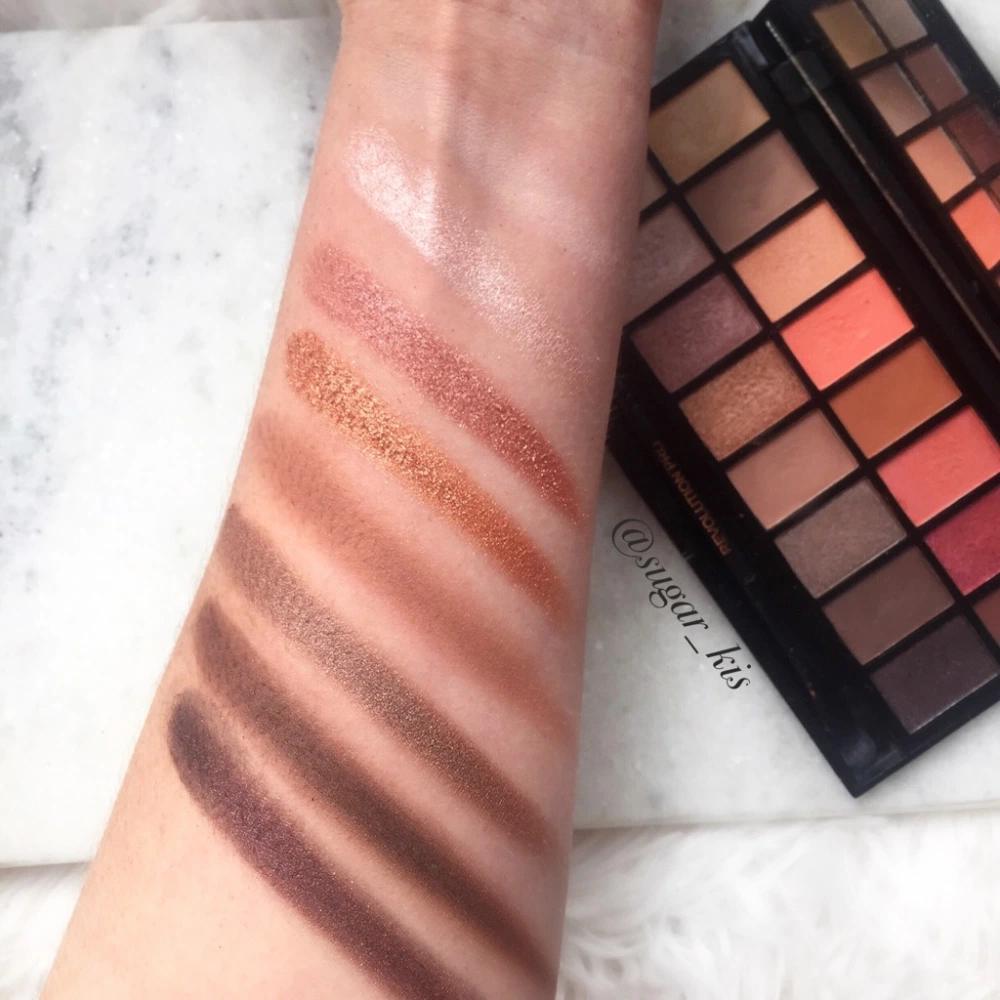 NEW-TRALS vs NEUTRALS Bottom Row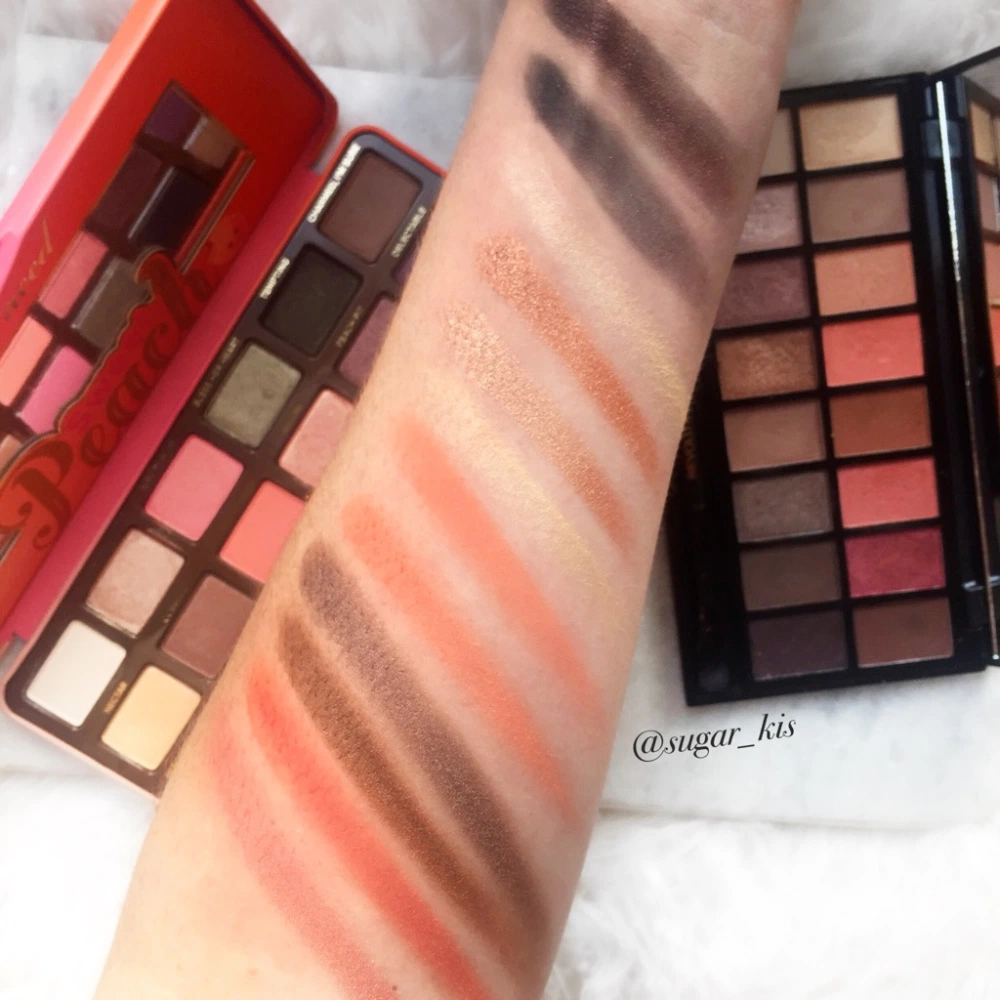 Side by Side Swatches: Top shade is from Makeup Revolution and bottom from Sweet Peach. Sorry the golden shades are next to each other, but top is Makeup Revolution and bottom is Sweet Peach!